Description
Qi Me (Swiss Pine, Maple, Walnut)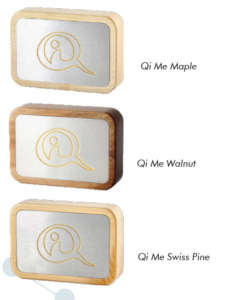 1. ENERGIZING WATER
Every Qi-Shield contains vials of water that emulate the health giving benefits of artesian curative springs. Via frequencies the quality of these healing waters are transferred to any water located within range.
2. GENERATION OF VITAL ENERGY
Qi-Shield generates its own field of vital energy and produces free electrons. These free electrons neutralize free radicals and can regenerate vitamins in the body. Qi-Shield users report increased stamina and focus reduced feelings of stress while in the home or at work.
3. LESS INFLUENCED BY RADIATION
Qi-Shield protects against harmful radiation caused by mobile phone radiation.
4. AIR IMPROVEMENT
Air contains water. The water molecules are positively influenced, and increased. As a result, the air quality is enhanced.