Description
Qi Max (Swiss Pine & Beech)
Some Benefits of The Qi-Max: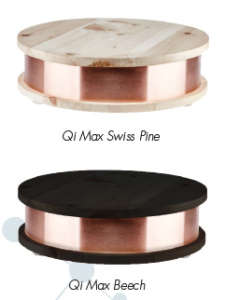 • Energizing water
Every Qi-Max contains vials of proprietary liquid that contains all visible light frequencies. There is no water on earth that possesses 100% of visible light frequencies. The best healing waters on the earth that people flock to receive healing have only up to 80% of the visible light frequencies. The Qi-Max will change water within the torus field to have healing properties like the healing waters of the earth. There are studies showing that water near Qi-Technology will end up with a -100mv because it is receiving electrons from the Qi-Technology. This makes the water have antioxidant properties.
• Generation of vital energy
Qi-Max generates its own field of vital energy and produces free electrons. This technique is unique and makes our products exceptional. The electrons help to neutralize free radicals inside and outside the body.
Qi-Max users report better sleep and more energy the next morning.
• Less influenced by radiation
Qi-Max can protect all residents of an apartment or one family home against all harmful radiation caused by mobile phone radiation, WiFi, wiring in the house, outside, electric smog, & more!
• Air improvement
Air contains water. The water molecules are positively influenced and the number of negative ions increases. As a result, the quality of the inside air is enhanced.
• Healthier groceries
Most of the groceries that can be purchased are riddled with pesticides, fungal and mold spores along with other harmful substances. Qi-Max eliminates the contaminant energy out of the water, in your groceries.
• No power required
Qi-Technology function on natural laws and do not require any power to be "on". It creates its own electricity. The most efficient way to set up Qi-Max is at a central place in the living area.. To deactivate or "turn off" the Qi-Max, simply put it on its side.
• Full functionality within 24 hours
Enjoy the full benefits of EMF protection from the Qi-Home & Qi-Max within 24 hours of laying them down flat to activate them. Most electro-sensitive users experience noticeable change within 48-72 hours after their body adjusts to the absence of EMFs and increase of electrons.
This product is designed and engineered with German patented technology to provide you and your family a true sanctuary against EMF and Radiation Frequency. Enjoy the benefits of being protected from harmful and damaging EMF. To "activate" the unit must be lying flat and placed in a central location. Do not place objects on top of device.
2 Year Warranty / Free Recharge every 10 year + Shipping
Contact us to recharge your Qi-Max product.